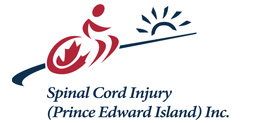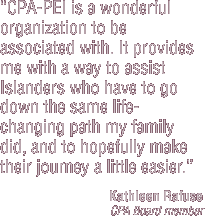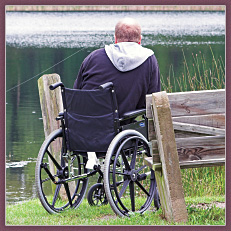 Health Care & Supports
Atlantic Prosthetics

A full service prosthetics clinic, providing a complete choice of artificial limbs for amputees. Located within the Polyclinic Professional Centre.
---
Bayshore Home-Health

Offers home care solutions and services such as nursing, personal care, home support, companionship, serious injury home care, and pediatric home care.
8 Mount Edward Rd.
Charlottetown, PE C1A 5N2
Contact: Mary MacDonald,
Charlottetown Area Director
Tel: (902) 892-7355
Toll Free: 1-800-892-7355
Email: charlottetown@bayshore.ca
Website: www.bayshore.ca
---
Canadian Red Cross - PEI Regional Office

"Respite Care Services" provide comprehensive assistance tailored to individual needs. Red Cross also loans standard and specialized equipment such as canes, crutches, wheelchairs, bath seats, and commodes (limited to Queens County). The equipment is loaned on a short-term basis, free.
---
PEI Community Mental Health - The Richmond Centre

The mandate of Richmond Centre, as well as the other Community Mental Health locations across PEI, is to provide a broad range of community- based counseling to individuals, families, groups, and communities. The mental health teams are established under a multi-disciplinary model with professionals from the disciplines of nursing, psychology, social work, and psychiatry.
Charlottetown
Richmond Centre
1 Rochford St, Charlottetown, PE
Mailing: PO Box 2000
Charlottetown, PE C1A 7N8
Tel: (902) 368-4430

Summerside
c/o Prince County Hospital
65 Roy Boates Avenue, Summerside
Mailing: PO Box 3000
Summerside, PE C1N 2A9
Tel: (902) 888-8180

Alberton
c/o Western Hospital
Alberton, PE C0B 1B0
Tel: (902) 853-8670

Souris
c/o Souris Hospital
17 Knights Lane
Mailing: PO Box 64
Souris, PE C0A 2B0
Tel: (902) 687-7110
Montague
126 Douses Road
Montague, PE C0A 1R0
Tel: (902) 838-0960
Website: click here
---
East Prince Equipment Pool

Offers the free loan of specialized equipment, short-term, for persons with a disability.
-
Aubin Arsenault Building, Room 317
PO Box 2000
Charlottetown, PE C1A 7N8
Contact; Cindy Warren
Tel: (902) 888-8440

---
Harding Medical Supplies

Delivers individualized attention and innovative and custom solutions to persons with disabilities.
---
Recreation Therapy, IWK Pediatric Rehabilitation Service

The premier Pediatric Rehabilitation service in Halifax, Nova Scotia, for children and youth. Go to the website, select "Care Services" button on top navigational bar, scroll down the list to click on the "Recreation Therapy" hotlink. Select the "Leisure For Me" button on the left-hand navigational list - this PDF has information on travel, adaptive equipment, organizations, and health tips for families.
---
Lawtons Home Healthcare

Carries a broad range of the proper products and related services for persons with mobility impairment. Staffed with knowledgeable sales and service personnel who offer in store and in-home equipment assessments and service repair, or installation or rental of their products.
Sherwood Centre
161 St. Peter's Road
Charlottetown, PE
C1A 5P7

Summerside Centre
475 Granville St
Summerside, PE
C1N 4P7

Tel: (902) 628-6611
Cell: (902) 314-2841
Contact: Blair Gallant
Cell: (902) 314-0556

Tel: (902) 432-3563
Website: www.lawtons.ca
---
Murphy's Home Health Care

A complete selection of incontinence and first aid supplies, wheelchairs, walkers, canes, etc. Free delivery.
24 St. Peters Road
Charlottetown, PE

56 Broadway Street
Kensington, PE
Tel: (902) 628-1500


Tel: (902) 836-3316
Website: www.murphyspharmacies.com
---
Health PEI


Provides residential and non-residential treatment for chemically dependent persons and their families in locations across PEI. Committed to a 12-Step philosophy and mutual support systems to assist clients and families in ongoing recovery.
Queen's Region
P.O. Box 2000
Mt. Herbert, PE C1A 7N8
Tel: (902) 368-4120
Website: click here
Youth Addiction Services
Website: click here
---
PEI Department of Health

Provides public health services, primary care, acute care, community hospital, and continuing care services to Islanders to help ensure their optimal health.
PO Box 2000
16 Garfield Street, First Floor
Charlottetown, PE C1A 7N8
Phone: 902-368-6130
Fax: 902-368-6136
Email: healthpei@gov.pe.ca
Website: click here
---
The PEI Home Care Program (Department of Health)

Provides health care and support services including assessment, care coordination, nursing, personal care, respite, occupational and physical therapies, adult protection, integrated palliative care, community-based dialysis, assessment for nursing home admission, and community support services.
Souris
17 Knights Avenue
Souris, PE C0A 2B0
Tel: (902) 687-7096

Summerside
Wedgewood Manor
310 Brophy Avenue
Summerside, PE C1N 5N4
Tel: (902) 888-8440

Montague
6 Harmony Lane
Montague, PE C0A 1R0
Tel: (902) 838-0786


O'Leary
Community Hospital
14 MacKinnon Drive
O'Leary, PE C0B 1V0
Tel: (902) 859-8730

Charlottetown
165 John Yeo Drive
Charlottetown, PE C1E 3J3
Tel: (902) 368-4790

Website: click here
---
PEI Occupational Therapists Registration Board

The governing body responsible for regulating the practice of occupational therapy in PEI, and protecting public interest by reviewing applicants. Maintains a list of currently registered OTs.
PO Box 2248, Stn Central
Charlottetown, PE C1A 8B9
Website: www.peiot.org
---
The Prince County Hospital

The Restorative Care Unit offers a team approach to patient care where both the emotional and physical aspects of illness are considered. The patient, family, and team work together to achieve the best possible outcomes. General Visiting Hours: 11:00 a.m. - 1:00 p.m. and 2:30 p.m. - 8:00 p.m.
65 Roy Boates Avenue
Summerside, PE C1N 2A9
General Tel: (902) 438-4200
Website: click here
---
The Queen Elizabeth Hospital (QEH)

The Provincial Rehabilitation Unit (Unit 7) is a specialized, 20-bed unit, staffed by an interdisciplinary team including nurses, physicians, physiotherapists, occupational therapists, prosthetics and orthotics specialists, nutrition services, volunteer services, speech-language pathologists, and social workers. Physical Medicine and Rehabilitation, also know as Physiatry, is the medical specialty responsible for overseeing the treatment of patients with a wide range of disabilities. Other services available in the Physical Medicine Department include a "Seating Clinic" available by self-referral and a "Wound Care Clinic" by physician referral. General Visiting Hours: 11:30 a.m. - 1:30 p.m. and 2:30 - 8:30 p.m.
60 Riverside Drive, PO Box 6600
Charlottetown, PE C1A 8T5
General Tel: (902) 894-2111

Website: click here
---

Sidewinder Conversions and Mobility

Works with the customer to create a personalized vehicle that will meet mobility needs. A diverse selection of mobility products that come from distinct companies such as VMI, Ricon, and Bruno Braun.
---
Sure Grip

Provides unique "push rock" acclaimed style of driving "push forward for brake, rock back for acceleration" promoted by the National Mobility Equipment Dealers Association (NMEDA) as the fourth recognized style of driving for the disabled under nationally recognized terminologies.
---
Toronto Rehab's Lyndhurst Centre

Toronto Rehab's Spinal Cord Rehabilitation Program is housed in the Lyndhurst Centre, one of Toronto Rehab's six centres across Toronto. It is the longest-running rehab program in North America for people with traumatic spinal cord injuries and non-traumatic diseases of the spinal cord. It is also Canada's largest inpatient program. Toronto Rehab has an unparalleled wealth of experience helping patients with spinal cord injuries to rebuild their skills and lives. Individuals are referred from doctors from acute care hospitals across Ontario, across Canada, and around the world.
---
We Care Home Health Services

Providing home care programs to persons with disabilities, including: 24-hour live-in care, homemaking and meal preparation, infant and childcare, personal care including specialized foot-care, and services directly related to specific disabilities.
161 St. Peters Rd., PO Box 20075
Charlottetown, PE C1A 9E3
Contact: Greg McKim
Branch Director
Tel: (902) 894-3025
Toll Free: 1-877-853-1195
Website: www.wecare.ca